If you missed yesterday's post, go back and check it out. It'll give you a summary of our family's theme park preferences before I go on and review the second Disney park we visited this trip, Epcot. I'll be honest: I was a little nervous that our kids would be bored by the majority of the park, and I fully expected we'd make it an early day and head back for the resort pool not long after lunch. Boy was I wrong! A great time was had by all. Here's what we checked out, and what we thought of each of them (again, in alphabetical order):
(
Map of the park can be found here
.)
American Heritage Gallery
(interactive museum): We came to the gallery to hear a singing group that was scheduled to perform, but really enjoyed strolling through the exhibits on African-American history while we were waiting. The kids were more willing to listen to the stories because of the interactive displays. The many historical artifacts and posters really brought history to life. We didn't spend a lot of time here, but it's a nice cool place to add a little educational time to your trip.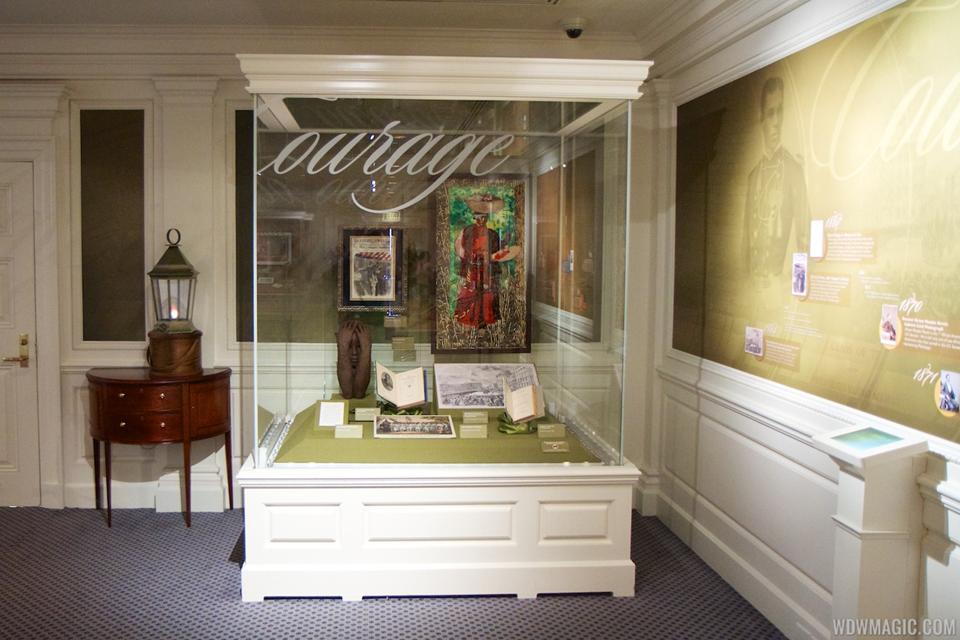 The American Adventure
(show): This animatronic show about American history was reminiscent of Magic Kingdom's Hall of Presidents. Narrated by Mark Twain and Benjamin Franklin, we follow American history through the
Mayflower,
the Boston Tea Party, Valley Forge, the signing of the Declaration of Independence, the Civil War, the Industrial Era, and the Great Depression. Along the way, we meet a number of other historical figures, from Chief Joseph to Alexander Graham Bell to Susan B. Anthony to Will Rogers to Martin Luther King, Jr. Another interesting way to sneak a little education into your vacation. Plus, it's in an air-conditioned auditorium with comfortable seats.
Ellen's Energy Adventure
: Hosted (virtually, of course) by Ellen DeGeneres and Bill Nye, I expected this ride to beat me over the head with its conservation message, but I was pleasantly surprised. Riders sit in large cars with long bench seats and are immersed in a prehistoric adventure to learn about how today's energy sources were formed in the past. Lots of animatronic dinosaurs, but much
less intense and scary than the Dinosaur ride at Animal Kingdom, so if you have a smaller or more timid dinosaur lover in your party, this is the perfect ride for them.
Frozen Ever After
: Needless to say, Peanut went NUTS over this ride - she watched videos over and over before we left, and told us excitedly throughout the ride what was about to happen next. Even Buddy, who likes but doesn't LOVE Frozen, thought it was pretty cool. And Mom and Dad were fascinated by the new-era animatronics that combine physical movement with high-resolution projection of the faces. And there's Olaf and Sven. Who doesn't love Olaf and Sven? Put this at the top of your Fast Pass list, or at least head for it first thing in the morning.
Journey Into Imagination with Figment
: We originally went on this ride because we were walking past it and there was no line. But the kids loved it so much that we immediately circled around and rode it again! The ride itself is a silly story exploring the "Imagination Institute" and learning about some of the five senses, and it includes some fun "4D" aspects, such as some mild skunk stink that Disney magic somehow manages to make non-offensive. Parents will appreciate the nods to various Disney mad scientists, including Robin Williams' Prof. Brainard from
Flubber
, Rick Moranis' Wayne Szalinski from
Honey, I Shrunk the Kids
, and Dr. Nigel Channing, portrayed by Monty Python's Eric Idle. Be sure to allow time to play the interactive games in the "What If" labs, experimenting with light and music.
Meet Anna and Elsa (character appearances): Not only were my kids mesmerized because, well, ANNA AND ELSA!!!!!! but because both characters spent several minutes chatting and interacting with them (Anna more so than Elsa, who was so gorgeous that she pretty much struck both kids speechless). Both kids still remind me that Anna promised to get Olaf to join them for a 2 against 2 snowball fight. If you have any Frozen fans in your house, it's worth waiting to meet these lovely princesses. Don't forget the photos! (Note: these are my own lousy photos, not the picture-perfect Disney pro's shots.)
O Canada (360-degree film): A fun and funny tour of Canada hosted by Martin Short, this IMAX-style film was a lovely look at the gorgeous scenery all over Canada. Unfortunately, it was not a sit-down theatre and the kids were not allowed to sit on the floor, only to lean against the rails (which were too tall for them to actually lean against). Good concept, but terrible execution. Don't waste your time unless you have plenty of energy and don't mind standing up for 15 minutes. Instead, enjoy the lovely waterfalls outside the Canada pavilion.
The Seas with Nemo and Friends (ride and pavilion): The ride was good, but it was everything that came afterwards that blew our minds! The multiple large aquarium tanks were the best part: dolphins, manatees, sea turtles, skates and rays, sharks, and dozens of tropical fishes were on glorious display.
Spaceship Earth
(ride and pavilion): The ride inside the iconic "geosphere" that symbolizes Epcot, this gentle not-quite-coaster is a beautifully narrated history of humankind and communication, from cavemen hunting mammoths to Phoenicians using cuneiform on papyrus to Gutenberg's printing press to Renaissance art. The ride includes a fun interactive video quiz and is followed by a visit to Project Tomorrow, where you can play virtual shuffleboard, don 3D glasses to build a human body, and drive a video racecar.
Other rides and attractions to check out:
Soarin'
(must be 44" tall): We simply ran out of time and Fast Passes, otherwise this would have been on our list. It's essentially a hang-gliding trip over some of the world's most famous places. Lines are always brutally long, so be sure to grab a Fast Pass if you don't want to miss it.
Test Track
: Buddy was horribly disappointed that we missed this ride due to weather closures and 3-hour wait times. Design your own racecar and then get to test its capabilities on an actual driving course. You can follow up your ride with additional interactive exhibits.
Turtle Talk with Crush
: We experienced a modified version of this ride on a Disney cruise ship a few years ago. An animated Crush (from Finding Nemo) actually answers questions from guests, and is joined by various characters from both Finding Nemo and Finding Dory. Young ones will be mesmerized.
All the Ethnic Restaurants at the Various Country Pavilions
: We only had one meal at the pavilions, a delightful German buffet. Check schedules for entertainment inside or near the eateries (the German restaurant had a marvelous oompah band). Fast food, snacks, and sit-down restaurants are available in the different pavilions, so pace yourself and try a lot of different foods! Most, if not all, restaurants have a few basic kid-friendly foods (hotdogs, mac & cheese, chicken fingers) so less adventurous eaters won't go hungry.
Enjoy!
If you're considering planning a Disney vacation, let
Stacey Trask
make it easier for you!